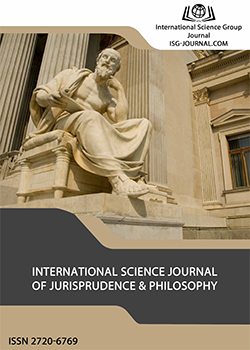 ISSN (Online): 2720-6769
Periodicity: once every two months
DOI: https://doi.org/10.46299/j.isjjp
International Science Journal of Jurisprudence & Philosophy - scientific periodical. The journal is an electronic peer-reviewed publication. The team of reviewers includes many scientists with different scientific interests in accordance with the thematic sections of the journal.
Published in the International Science Journal of Jurisprudence & Philosophy  are placed in many scientometrics databases, which will contribute to the dissemination of works in the scientific environment and contribute to increasing the citation indices of each of the authors. The publication provides for the assignment of a DOI to each published manuscript, which meets the current trends in the coverage of scientific articles.
Editor-in-chief and publisher: Pluzhnik Olena —  Candidate of Law Science.
The areas of scientific research associated with this journal and published include the following areas, but not only:
Administrative Law, Administrative Procedure;;
Civil Procedure;
Civil Law;
Criminology;
Theory and History; State and Law;
Criminal and Penal Execution Law;
Philosophy;
Constitutional law;
Judicial and law-enforcement agencies;
Environmental law. Land Law; Agrarian Law;
Intellectual Property Law; Information Law;
History of state and law. History of political and legal doctrines;
History of World Countries and International Relations.