The International Science Journal of Management, Economics & Finance - scientific periodical. The journal is an electronic peer-reviewed publication. The team of reviewers includes many scientists with different scientific interests in accordance with the thematic sections of the journal.
Published articles in the International Science Journal of Management, Economics & Finance are placed in many scientometrics databases, which will contribute to the dissemination of works in the scientific environment and contribute to increasing the citation indices of each of the authors. The publication provides for the assignment of a DOI to each published manuscript, which meets the current trends in the coverage of scientific articles.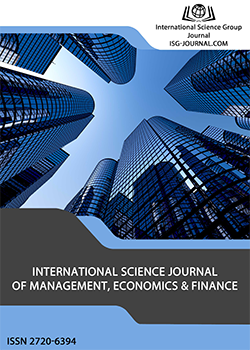 ISSN (Online): 2720-6394
Publication languages: Ukrainian, English, Polish.
Periodicity: once every two months
DOI: https://doi.org/10.46299/j.isjmef
Average time for initial evaluation of articles: 2-3 days.
Average time for reviewing manuscripts: 20–35 days.
The areas of scientific research associated with this journal and published include the following areas, but not only:
Accounting and Auditing;
Innovative economics;
Micro and macroeconomics;
International economic relations;
Finance, Money Circulation and Credit;
Business Economics and Production Management;
Economics of Economic Sectors;
Economics and Management of National Economy;
Sociology;
Economics of Trade and Services;
Tourism and Hotel and Restaurant Business;
Finance, Banking and Insurance;
Marketing;
Management.